The Primary Trader melihat S&P500 masih terancam turun menuju 1,670 atau -40% dari level saat ini. S&P500 memang telah naik 30% dari akhir Maret 2020 namun kenaikan tersebut dapat dianggap sebagai Tech. Rebound yaitu kenaikan ditengah Downtrend. The Primary Trader belum melihat ada akhir dari Downtrend.
S&P500 dapat dikatakan berhasil mengakhiri Downtrend dan berpeluang besar untuk Uptrend bila dapat naik di atas 2,930 yang merupakan Fibonacci Retracement 61.8% dengan proyeksi ke bawah. Dengan melewati 2,930 maka kenaikan dari akhir Maret 2020 tersebut bukan merupakan Tech. Rebound.
Kenaikan S&P500 sejak awal tahun tampaknya karena kenaikan saham Amazon dan Netflix yang memang menjadi pemenang ditengah Pandemi COVID-19 dan Lockdown di berbagai belahan dunia. Namun bila melihat indeks Russell2000 (berisi 2 ribu saham di New York Stock Exchange), terlihat bahwa mayoritas saham tidak sebagus pergerakan S&P500. Amazon dan Netflix (serta 3 saham lain seperti Alphabet dan Facebook) hampir mewakili 20% dari total Market Cap S&P500).
Sementara itu, dilihat dari Market Breadth S&P500, saat ini lebih banyak saham – saham S&P500 yang turun. Dari chart di bawah, jumlah saham – saham yang di bawah level High 52Wk semakin banyak dan beberapa kali menjadi indikasi penurunan dalam pada S&P500 seperti di tahun 1990, 2008, 2011 dan 2016. Artikelnya dapat dilihat di Bloomberg.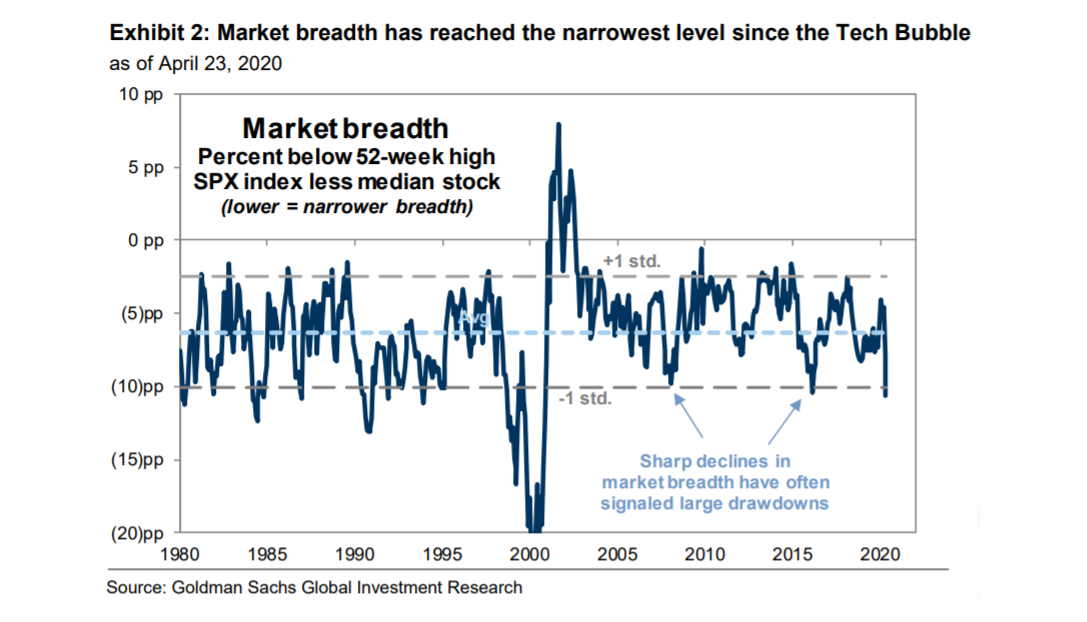 Minggu Penting
Di minggu terakhir April 2020 ini, Investor menunggu data ekonomi penting yaitu :
US GDP Growth Rate 1Q20 di 29 April 2020
FOMC Meeting di 30 April 2020
China NBS Manufacturing PMI di 30 April 2020
Trading Economics memperkirakan ekonomi AS di 1Q20 kontraksi sebesar -4% QoQ. Penurunan tersebut lebih dalam dari 25 tahun terakhir dan hanya dikalahkan oleh penurunan pada tahun 2008 (Global Financial Crisis).
The Primary Trader perkirakan data – data tersebut akan menjadi katalis penurunan S&P500. Selain itu, setelah wabah COVID-19 di suatu negara selesai dan Lockdown mulai berakhir, masih ada tantangan lagi karena masyarakat belum belanja dan konsumsi seperti biasanya. Hal ini terjadi di Wuhan dan Jerman.